Rubber Moulded Components

We are leading manufacturer and supplier of various types of rubber moulded components, automotive rubber moulded components, auto rubber components, automobile rubber products in India. Automotive rubber moulded components manufactured by us cater to the needs of not only auto industry but also several industries as well like general engine & machine builders, railways and aircraft industry. Our rubber moulded components are highly durable, and are known for their superior quality among clients from across the globe. Below are the different types of moulded rubber components offered by us:

Types of Rubber Moulded Components




Rubber Buffers

We provide high quality rubber buffers that are used in automobiles to prevent shock, vibrations and noise reduction thus making it an important automobile rubber component. We use premium quality rubber to manufacture this rubber component. We never compromise on durability and quality of the product and due to this our rubber buffers have found acceptance in the global market and made us the preferred manufacturer and supplier of rubber buffers in India for our clients.
Rubber Bellows

With the support of our dexterous team, we are able to establish a significant position in the domain backed by advanced manufacturing facilities, we are able to offer our clients a complete line of this rubber moulded component which is designed using high quality raw materials that are procured from dependable sources of the country. Manufactured in sync with the prerequisite standards, these Rubber Bellows are extensively demanded in the automobile industry and allied segments. Our competitively priced Rubber Bellows are reckoned amongst the clients for salient features like sturdiness, high strength, durable finish standards and resistant to high temperature.
Rubber Bushes

Empowered with a sound infrastructure and a skilled team, we are capable in manufacturing and supplying our customers a quality approved array of Rubber Bushes. This automotive rubber component is designed and developed by adroit professionals keeping in mind the exact requirements of our clients. Highly flexible in nature, these Rubber Bushes are compact in size, reliable, easy to install and provide high performance for a longer period of time. Clients can get from us a custom designed range of Rubber Bushes at affordable costs.
Engine Mountings

We manufacture high quality of engine mountings and export worldwide. The engine mountings are one of the most important automobile rubber moulded components which are used to attache the vehicle engine with the vehicle. High quality rubber and metal is used to produce such mountings which are very necessary for every kind of automobiles. Our engine mountings not only perform its job perfectly but also last for long.
Rectangular Sandwich Mountings

These rubber moulded components are also used to fix the engine in the chasis of the vehicle. In this kind of mountings a high quality rubber is sandwiched between metals. These are also used along with the engine mountings to absorb vibrations generated by the vehicle. Our engineers ensure the high quality while maufacturing these mountings.
Anti Vibration Mountings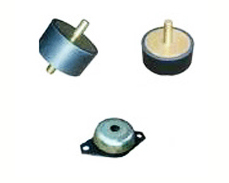 Anti vibration mountings are one of the most important automotive rubber moulded components which are used to prevent the transmission of vibration from one part to another e.g. they are also used to prevent the vibration generated by the engine to pass to the vehicle body. If these mountings are not used in a vehicle then it may lead to loosening of various parts, irritating noise, and very uncomfortable ride to the passengers.
Rubber Oil Seals

We manufacturer top grade quality of rubber oil seals for auto industry and other machinery. Oil seals are very imporant for any engine and machinery as they keep the oil/lubricant inside the engine or other compartment and prevent from leaking out. Thus good quality rubber oil seals are quite important for the proper functioning of engine and other machineries.
Suspension Bushes
Suspension bushes are nothing but a particular automobile rubber moulded components in cyclindrical shape and are made with the combination of high quality rubber and metal. These are used to hold the steering system and shockers of a vehicle so that they work properly. Expired or low quality suspension bushes may result in uneven wear of tyres, uncomfortable ride, irritating vibration, noise, and other wear and tear to the steering and suspension system. Silent bloc bushes and torque rod bushes are the two popular types of suspension bushes.
Rubber O Rings

Whether it is about automobiles, underwater cameras, scuba diving equipments, or other particular machinery, the rubber o rings find a wide array of applications. O rings prevent the transmission of water, oil, air, dust, etc. from one side to other side. Rubber oil seals are also one of the types of rubber o rings.
Rubber to Metal Bonded Bushes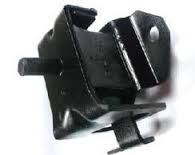 Such automobile rubber moulded components are manufacturerd with rubber and metal together. In such products rubber and metal are bonded with each other for extra strength and are used for various purpose in all vehicles. Engine mountings, silent bloc bushes, suspension bushes, torque rod bushes, are some of the types of rubber to metal bonded components.
Cushion Foot Mountings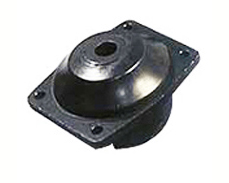 These rubber components are made from very high quality rubber which are designed to bear very high load of vehicle and for long life. Such mountings are used in heavy vehicles like trucks, buses, etc. to provide the cushion zone while bearing the heavy weight of the vehicle. Cushion foot mountings do not need replacement for long time.
Rubber Grommets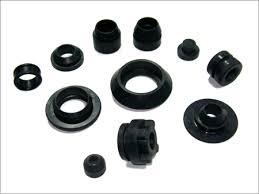 This rubber component is rubber made round rings which are inserted in a hole in the metal body of a vehicle to enforce the hole; to protect its sharp edges from rust and wear & tear; and to protect the delicate things which pass through such holes. For example if a wire passes through such holes then the wires are protected from the sharp edges of the metal body thus preventing the wear and tear of the wire which in turn prevent passing of the electric current into the body of the vehicle. Apart from auto industry such rubber grommets are also used in machines, generators and other industries.
Other Rubber Moulded Components

Apart from the above listed rubber moulded components we also manufacture and supply all other types of high quality automotive rubber moulded products, automotive rubber moulded components and rubber parts like rubber dust covers, isolator mountings, rubber o mountings, rubber u mountings, rubber gaskets, rubber packings, silent block bushes, torque rod bushes, rubber sleeves, rubber diaghpragms, rubber rolls, rubber washers, rubber bumpers, rubber sheets, and many more products for automobile and other industrial purpose.